Diabetic retinopathy is the leading cause of newly diagnosed blindness in the United States. Diabetic retinopathy is a complication of diabetes that damages the blood vessels in the retina. If left untreated, diabetic retinopathy can lead to blindness. However, early diagnosis and treatment can minimize the risk of vision loss and can often be prevented with regular eye examinations. WE UTILIZE THE LATEST MEDICAL TECHNOLOGY TO IDENTIFY AND MANAGE THE POTENTIAL VISION THREATS CAUSED BY DIABETES.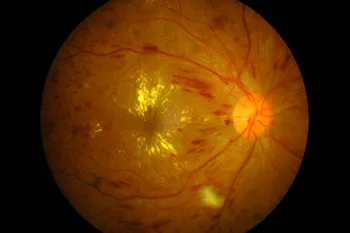 A carefully dilated retinal examination has been the best way to screen for early diabetic changes in the eye. During the retinal examination our doctors will look for the any of the following signs:
Swelling of the retina
Leakage of fluid from the blood vessels in the retina
Formation of new blood vessels on the retina's surface
Changes in the nerve tissue of the retina
The doctors at Family Eyecare of Glendale are proud to introduce CLARUS ULTRA-WIDE FIELD PHOTOGRAPHY to our patients as part of our routine yearly diabetic care regimen. We are excited about this advanced technology. When this technology is combined dilated retinal examination and when necessary, advanced deep retinal laser scans utilizing OCT technology, PATIENTS ARE AFFORDED THE HIGHEST LEVEL OF DIABETIC EYE CARE.
We strongly believe that this technology will give our doctors a potent new tool in the war against diabetic eye disease and improve the overall quality of are we offer patients by finding subtle EARLY changes of diabetic eye disease which might have otherwise been overlooked.